Korean language school Singapore
Learn Korean twice as fast with us
Small Classes – Practical Materials
Eotteoke (how)? Hana Korean Language School has a secret recipe!
We have crafted our Korean course materials ourselves. They are very different from run-of-the-mill language textbooks. Examples and practices are adapted to the world of K-drama., so you can watch Korean dramas without sub-titles as soon as possible. At the same time, it also helps you navigate the Korean streets like a local.
On top of that, our Korean classes are kept strictly small – 8 students are the maximum.
For these 2 reasons, our students complete a Korean level twice as fast as at other schools with large classes.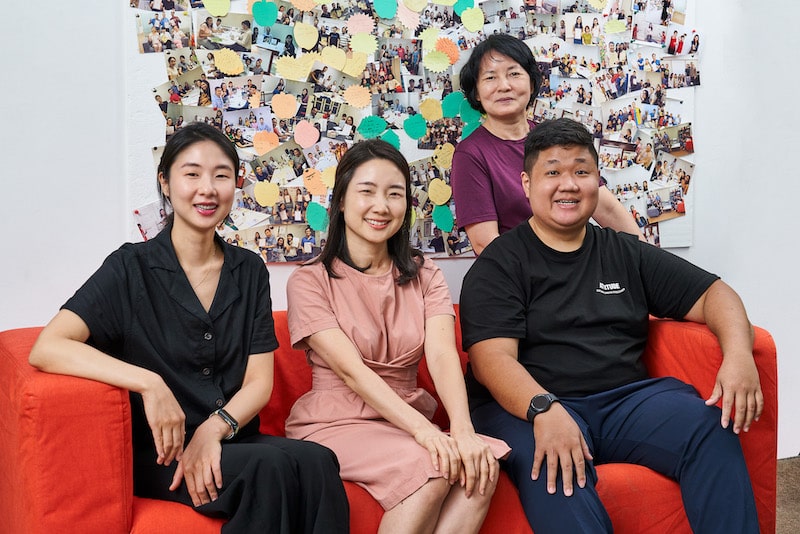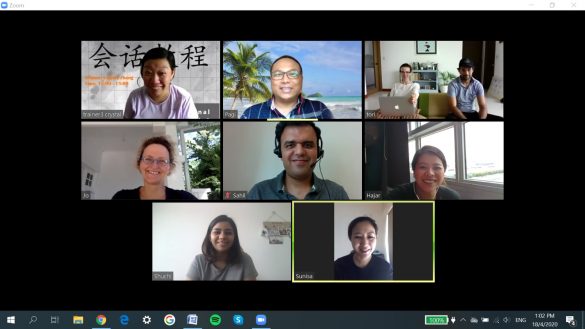 Join our free online Korean trial classes and see for yourself! We promise that you will have fun learning Korean with us.
Beginner Korean speaker, or looking to get more fluent?
At Hana Korean, we cater to all language levels.
If you are a complete beginner and have not studied Korean before, you'll start in our beginner level class. This class starts from the very beginning and covers all fundamentals to give you a solid basis. Even if you've picked up a couple of Korean words this basic Korean class is usually the best place to start.
If you're not a beginner and have learned Korean before, please take our Korean placement test. This test helps us to assess your level, so that you can place you in a group that gives you the right level of challenge: not too easy, not too difficult.
We offer you the most competitive rate for learning Korean in Singapore. With a dedicated team of trainers, level up your Korean in the comforts of your own home. Dae-bak!
TEENS HOLIDAY PROGRAMME
LEARN KOREAN IN 24 HOURS
Class only for teens
Learn Korean in the
same age group

as you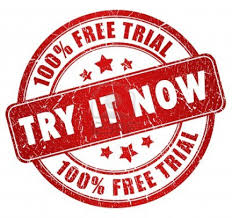 Free Trial Class (Online)
Join a free online Korean trial class and experience what it is like to learn Korean with us.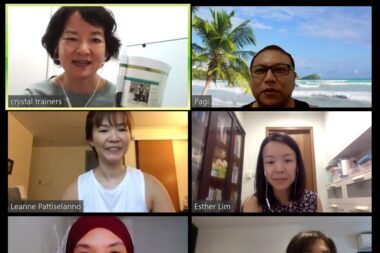 Online Korean Classes
Same small class size, same practical materials, same interactive lessons, but on Zoom.
Our online Korean classes are slightly cheaper, and save travel time. Find out more!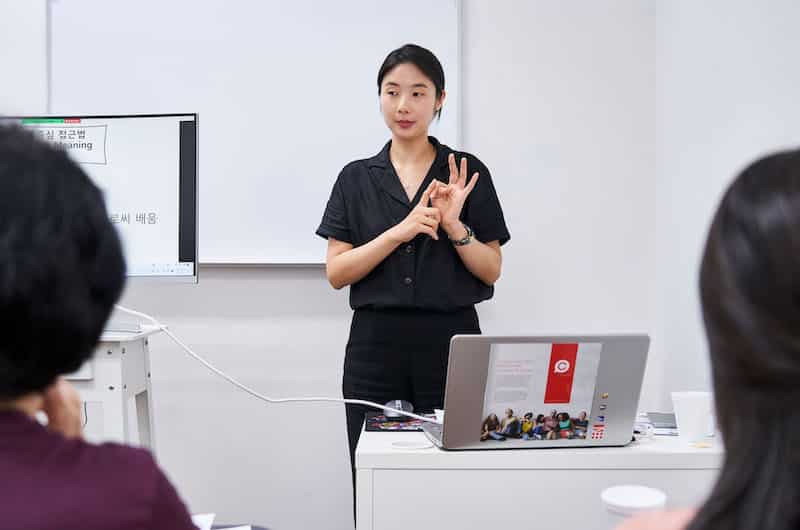 Onsite Korean Classes
Prefer face-to-face classes? Come to our centre, a short walk from Somerset MRT!
Small classes work better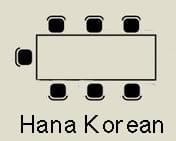 Classes at Hana Korean have a "tutorial" approach to learning
We run small group classes in tutorial style. This is more interactive and specific than a lecture.
We further reinforce the advantage of our small class size by shifting our role to that of a facilitator of discussion rather than an instructor.
Students sit facing one another to further facilitate conversation and mutual help.
For online classes, we keep the same small group size, so if you choose to learn Korean online with us, you'll find it's just as interactive.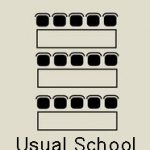 Traditional class layout directs everyone's attention to the teacher. This is an efficient layout for larger groups.
Most schools conduct Korean classes for only 1.5 hours and there isn't enough time for practice and revision.
The fastest learners tend to get most attention from the trainer. If you cannot catch up, you risk falling behind after the 2nd lesson.
The trainer has fewer opportunities to discuss topics that are not in the textbook. They need to complete the course within the allocated time
Pretty much every language school will ask you to make full payment before joining the course.
At Hana Korean, we are no different. We need to do that, because we have commitments to keep to our teachers as well.
But as a student, it's hard to sign up for something you haven't experienced yet.
That's why we offer you the chance to try out learning Korean with us during a free online trial class.
If you like the experience, you can sign up at the end of the session. Not for you, or need to think about it? That's completely fine, too!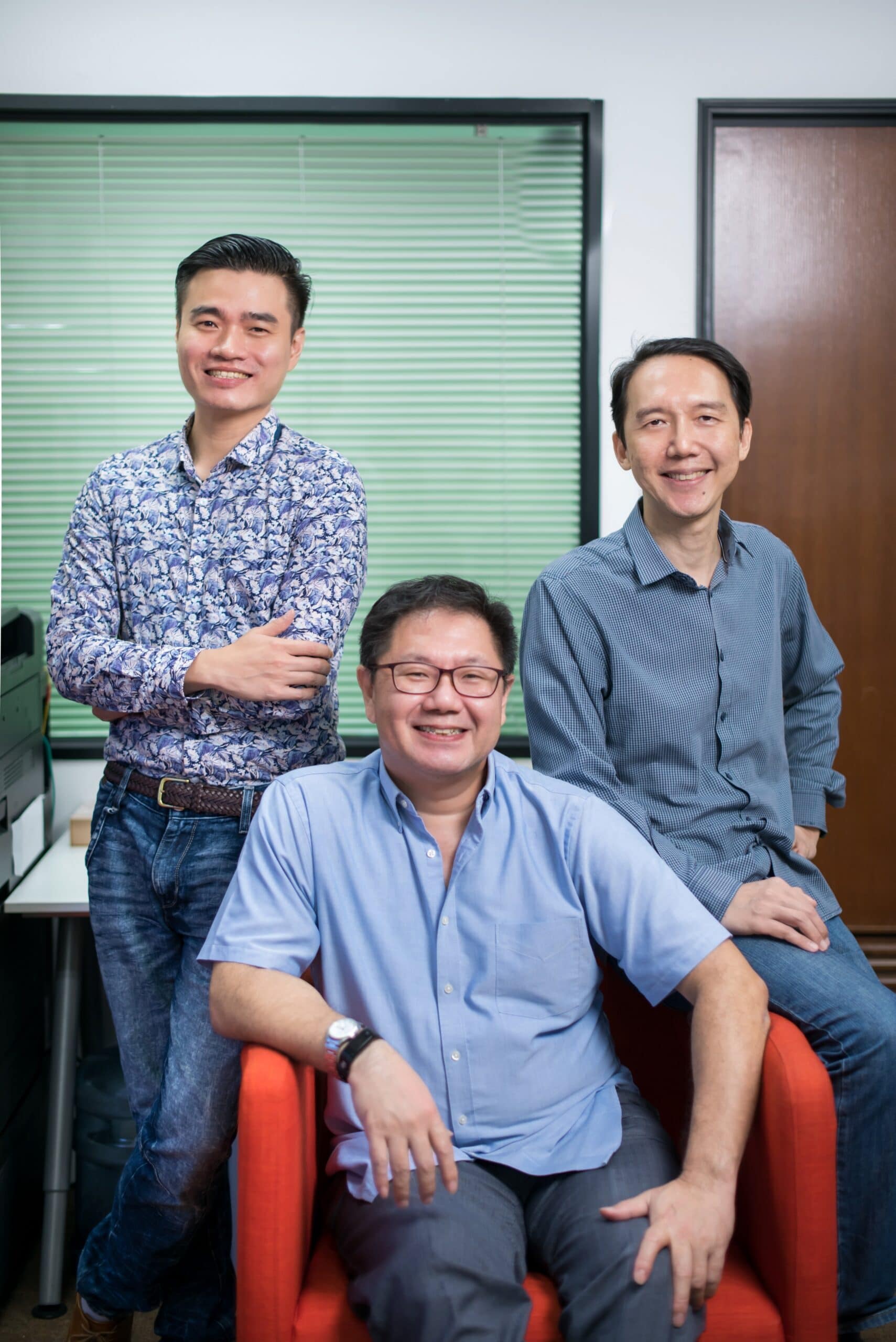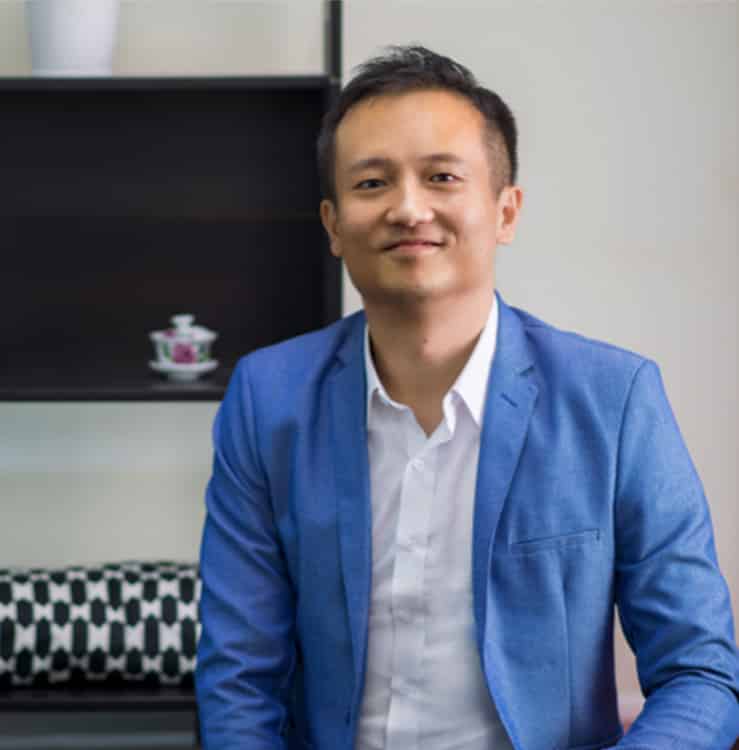 The story behind Hana Korean
Hi, My name is Alex
When I first started Hana Korean language school in 2012, I thought it would never work. It thought it was too simple because it didn't have more than one class a week. Was it enough? At just 2 hours? I was also concerned about the lack of time that students have to learn Korean after a full day of hard work.
Quite frankly, I was afraid that students might not have the time to learn and may quit halfway. But I was also fed up with seeing other schools squeezing many students in a class so that they could earn a higher profit.
The smallest Korean language group class in Singapore
So I decided to start a Korean language school with a couple of Korean teachers in a fully interactive class that only a small group class can achieve. If it didn't work out, I figured that at least I had tried my best.
I thought to myself: "I have little to lose"…
Now, those first 10 weeks were a little weird, to be honest. The initial batch of students were surprised that the class was small. And they got attention from their trainer, which they never had before.
Smaller class = better attention
They made true friends who were also interested to improve with them. They dared to ask questions because it would seem weird if they did not. They went back home happy and continued coming to class week after week.
But all of that went over when I noticed we didn't "lose students" as I thought we would. I actually gained quite a bit of referrals… The students came back to us excited to learn Korean and signed up for new terms.
Some stopped after they achieved what they were looking for. One even told us that she is happy to be able to read off Korean food menus and write to her Korean idols on Instagram.
You could not argue with the results.
You will get better even when you only attend one Korean class a week, because that one class matters. It is not the quantity but the quality of our Korean classes that matters.
And that's why I'm telling you to do it today. Our Korean lessons work better than everything else offered in Singapore.
Don't believe me – try it for 10 weeks or try out our free Korean trial class.
Our Korean teachers
We are really proud of the group of teachers we've brought together over the years.
As a teacher, of course it's important to have a good grasp of Korean. But we believe the ability to simplify complex grammar and empathy with the learner are equally important.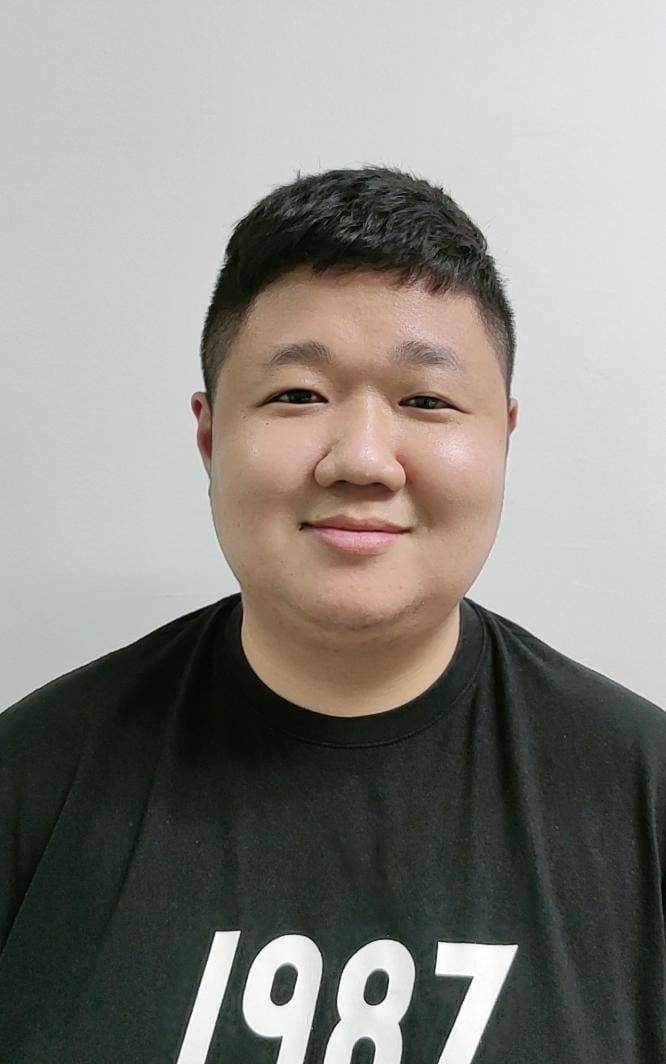 John Park
A born Korean, John moved to Thailand when he was 15 years old with his parents. He went on to complete his degree in Thailand at Thammasat University Bachelor in engineering major in Electrical Engineering.
Teaching is a deep passion of John. After graduating with flying colors, he has amassed several years of language teaching experience in the private sector. He has worked as a Korean teacher in a private school for two years before he came to Hana Korean language centre as a full-time language teacher.
John knows what it is like to learn a 2nd or third language. He had to learn Thai to complete his University education in Thailand. He can easily relate to the challenges that you will face when learning Korean and has come up with various techniques to overcome this. One of which is to use music and catchy tunes for adults to remember vocabulary. John is an extremely talented piano player and regularly performs in Temasek Club. 
Since 2018, John has turned his attention to tutoring adults. At Hana Korean, he has had plenty of opportunities to help adults who wish to improve their proficiency in Korean in an everyday or business setting. He is proud to have improved both the confidence and ability in the Korean language of his students.
His motto is: "If you are willing to learn, I am willing to teach."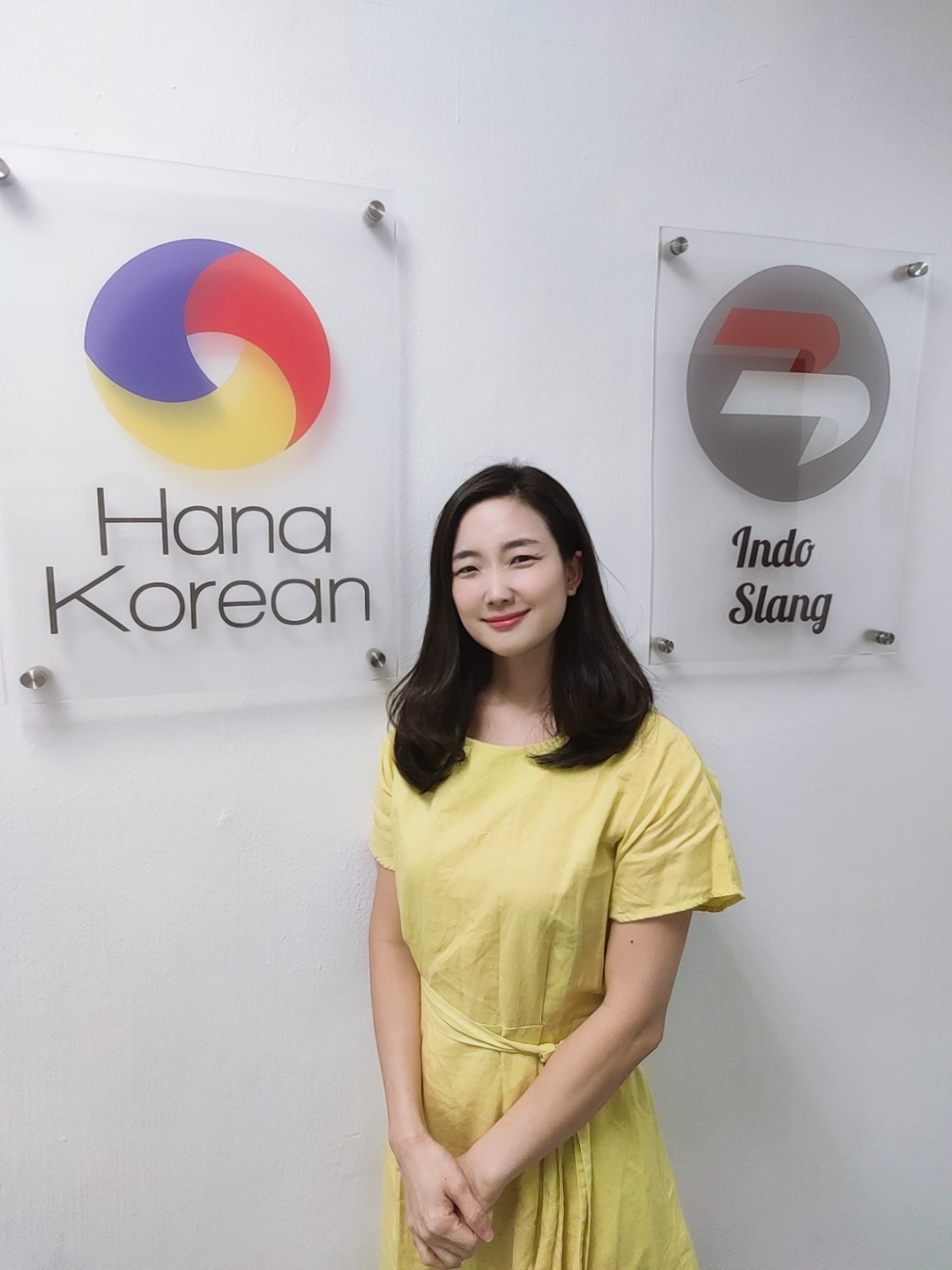 Lee Jeeeun
Ms. Jeeeun graduated from the prestigious Yonsei University aka SKY University in Korea. She then travelled to the US for her Masters and spent 5 years in the States. With her extensive time spent in the US, Jeeeun has learned to speak English far better than her Korean contemporaries.
She believes in delivering engaging, student-centred Korean lessons to support learners to grasp the language in fun and effective ways for meaningful usage in their daily lives, be it for social integration or work purposes.
 Jeeeun enjoys travel, languages and music and is always eager to hear about the experiences of others!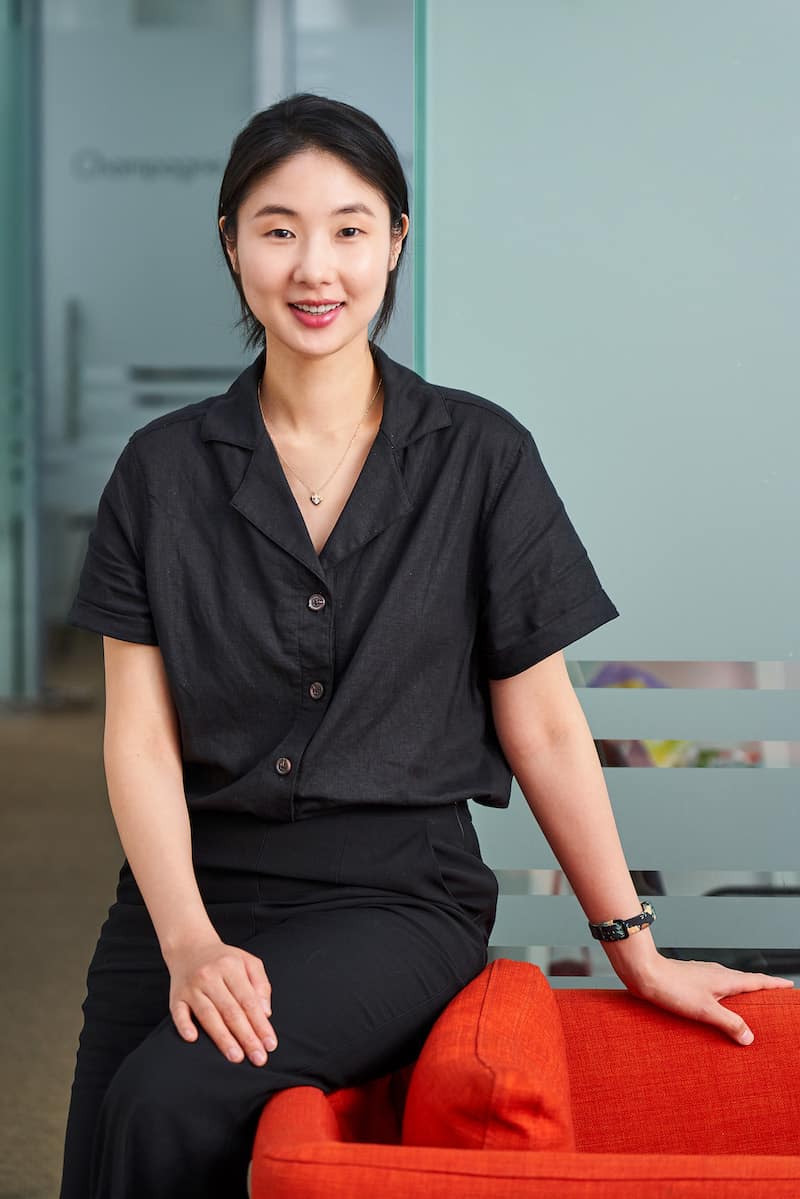 Kim Areum
Areum Kim lives in Korea but works in Singapore and she handles most of our Zoom lessons.
She chose to teach at Hana Korea because of our emphasis on small class sizes. Before that, she worked as a childcare teacher and witnessed the amazing development of children in smaller classes compared to the ones in bigger classes.
Areum has always dreamed about experiencing life in other countries. And after graduation, instead of following her friends to stick to an office job, she decided to travel.
13 countries later, she didn't regret her choice as she has experienced what few Koreans have. She taught Korean while living abroad and learned about foreign cultures. If you love to travel, you will enjoy learning Korean with her.
And through her overseas experience she developed a sense of empathy for language learners. She tries to see the learner's point of view and explain the Korean language as easily as possible.
She is determined and willing to give her 110% to help you learn Korean.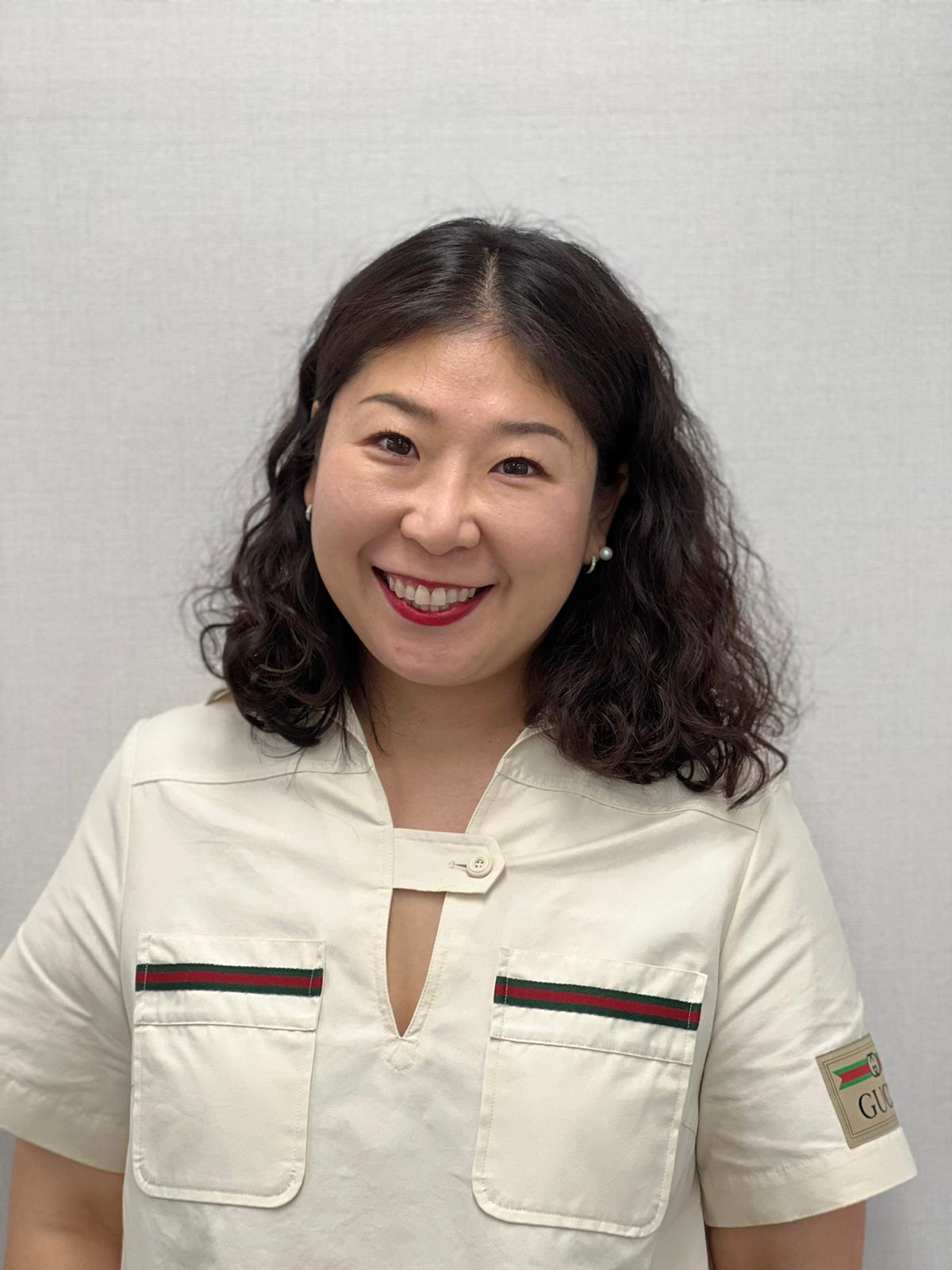 Oh JiEun
Jieun started teaching Korean back in Korea since 2003. From 2005 onwards, she has been training expatriate adults in business and Korean. Jieun joined Hana Korean in 2021 as Korean language trainer
With over 19 years of experience in adult training, Jieun has taught many foreign professionals and senior executives, including but not limited to those from BBC News, Cambridge University Press, Deutsche Bank, National University Hospital (NUH), Philips Electronics, Samsung,
Jieun is an expert in experiential learning who knows how to help the learners gain Korean skills though experiential learning. Students always find her lessons fun and engaging.
Try a Korean class for free
We offer you the most competitive rate for learning Korean in Singapore. Will you enjoy learning with us? Give it a try for free!