Join the Community
Hana Korean is proud to be a language school of choice. We have provided fun and engaging Korean lessons for corporations such as Samsung, Daimler, and the Finish Embassy. These students of ours develop valuable language skills and are able to use them effectively to fulfill their companies' objectives. 
But don't take it from us – hear from our students below!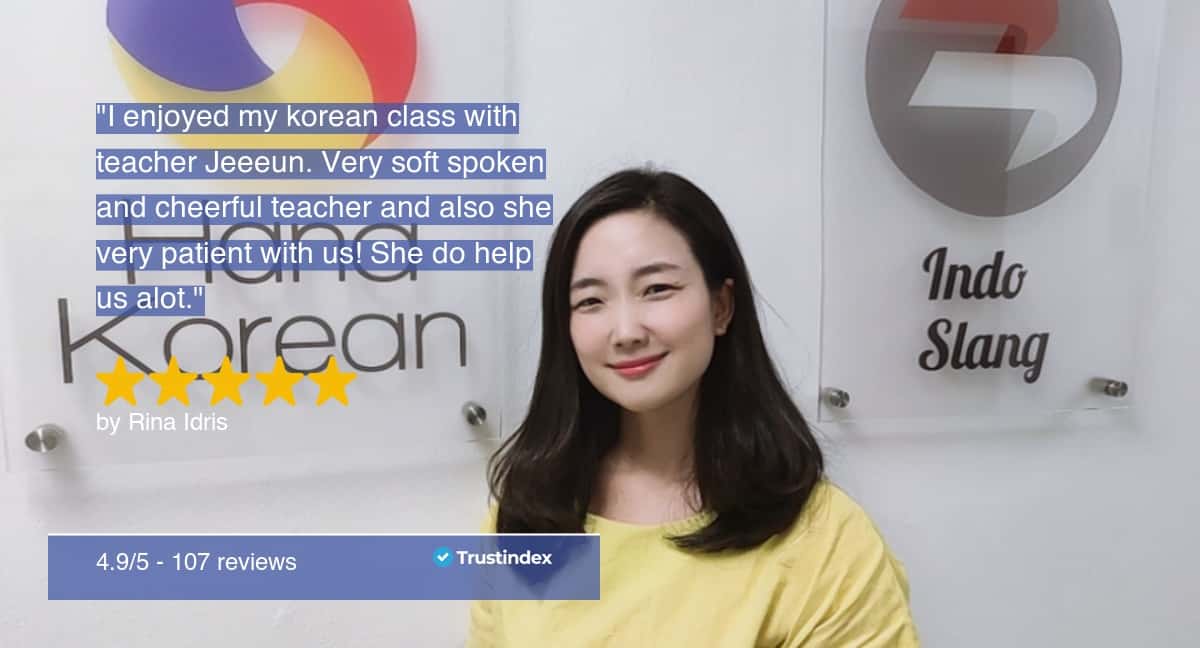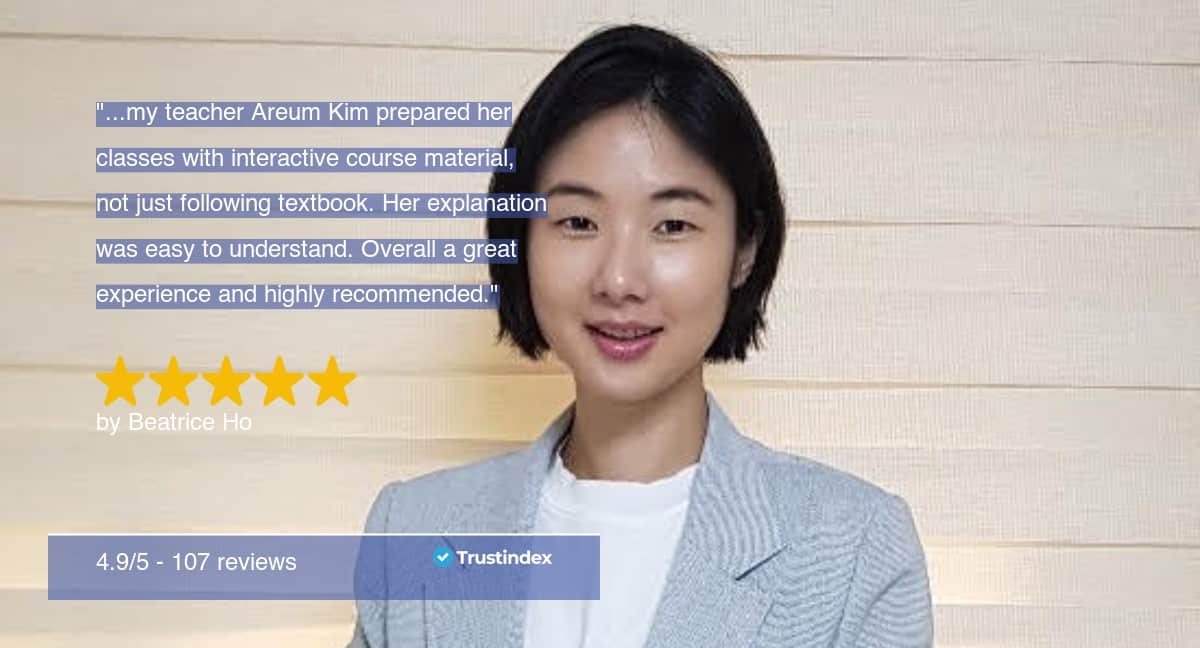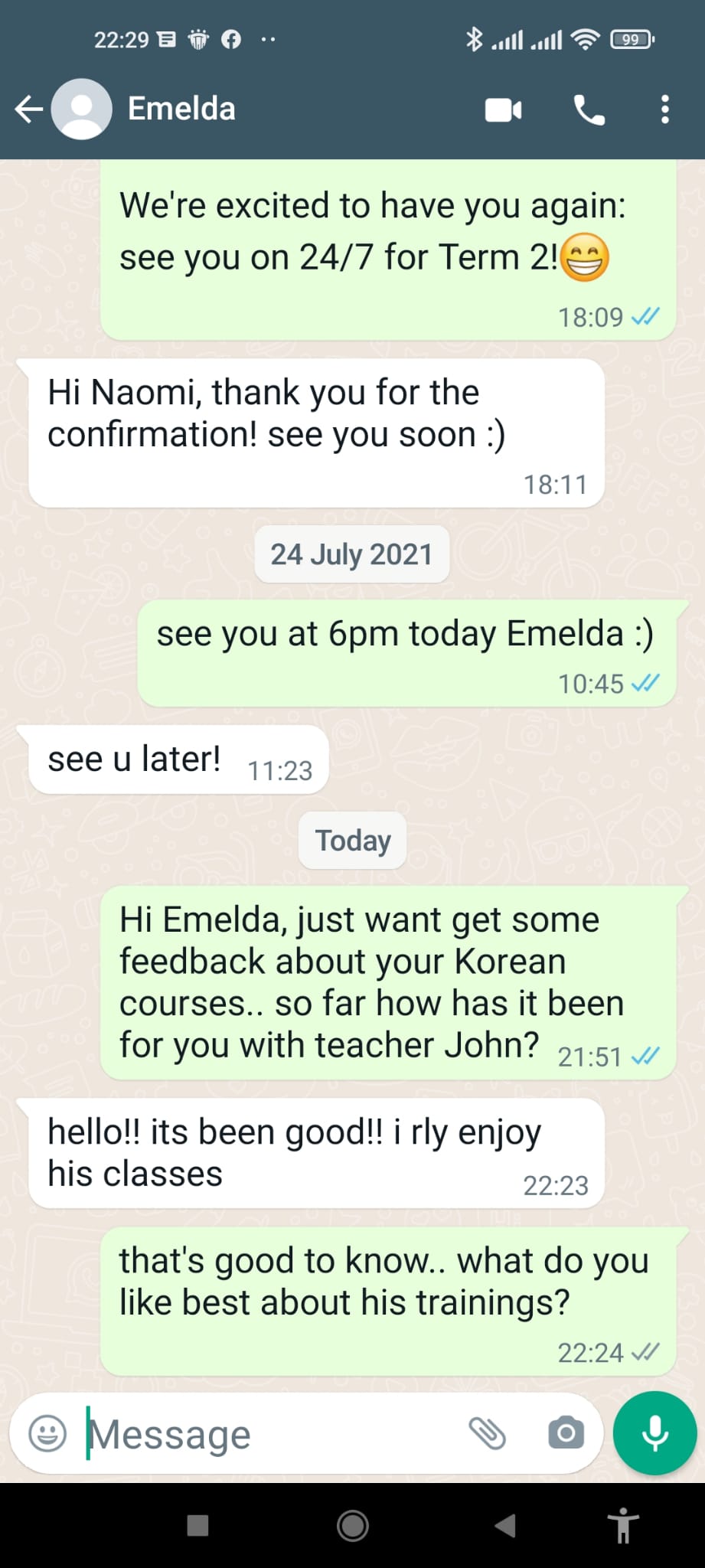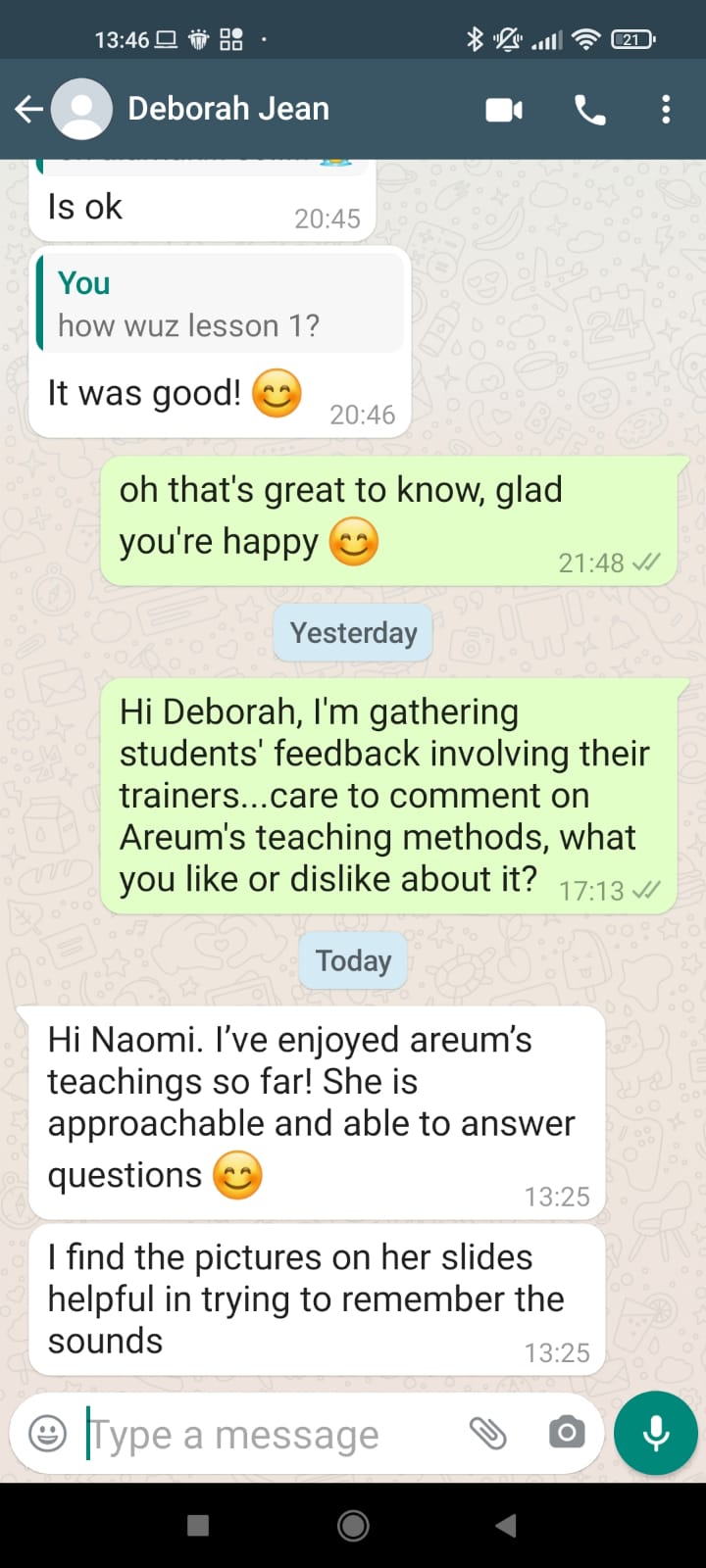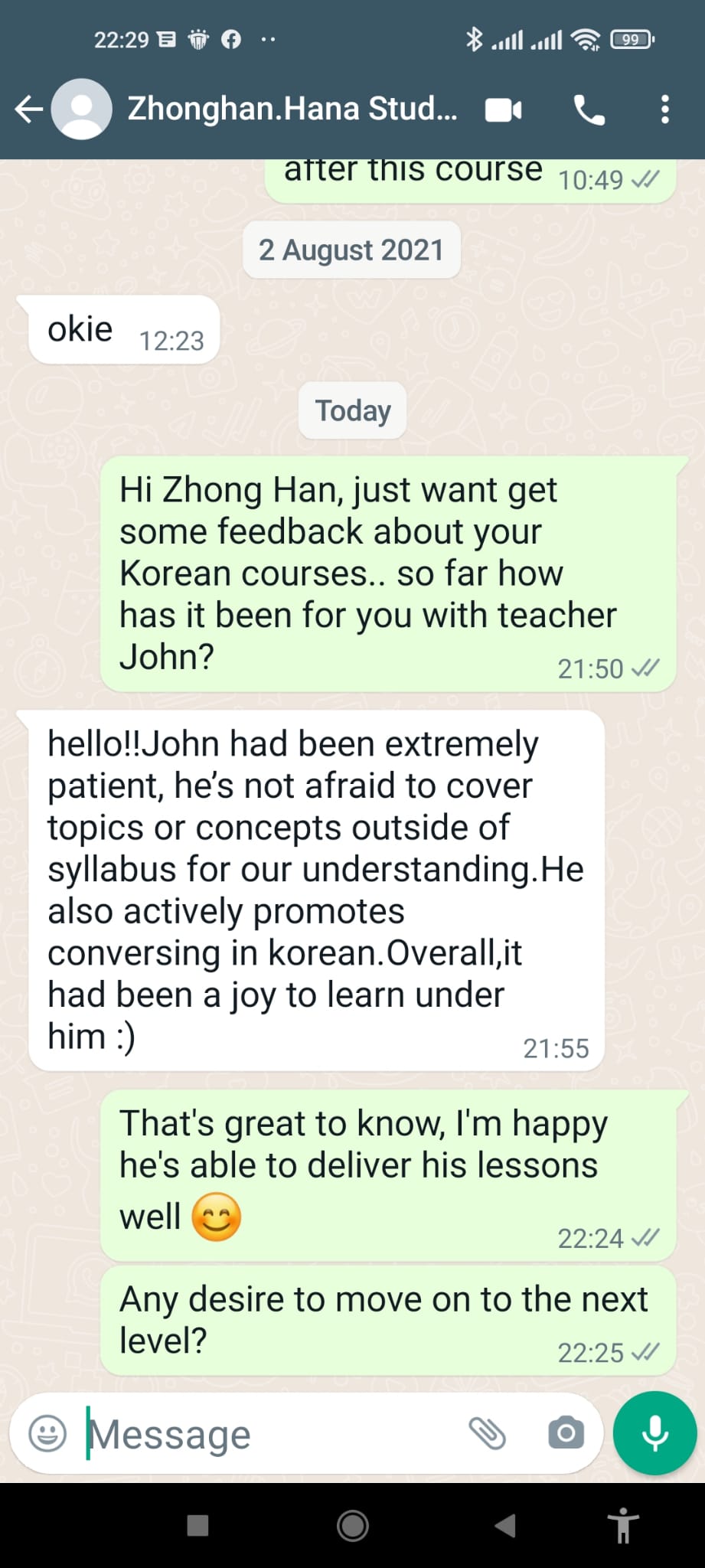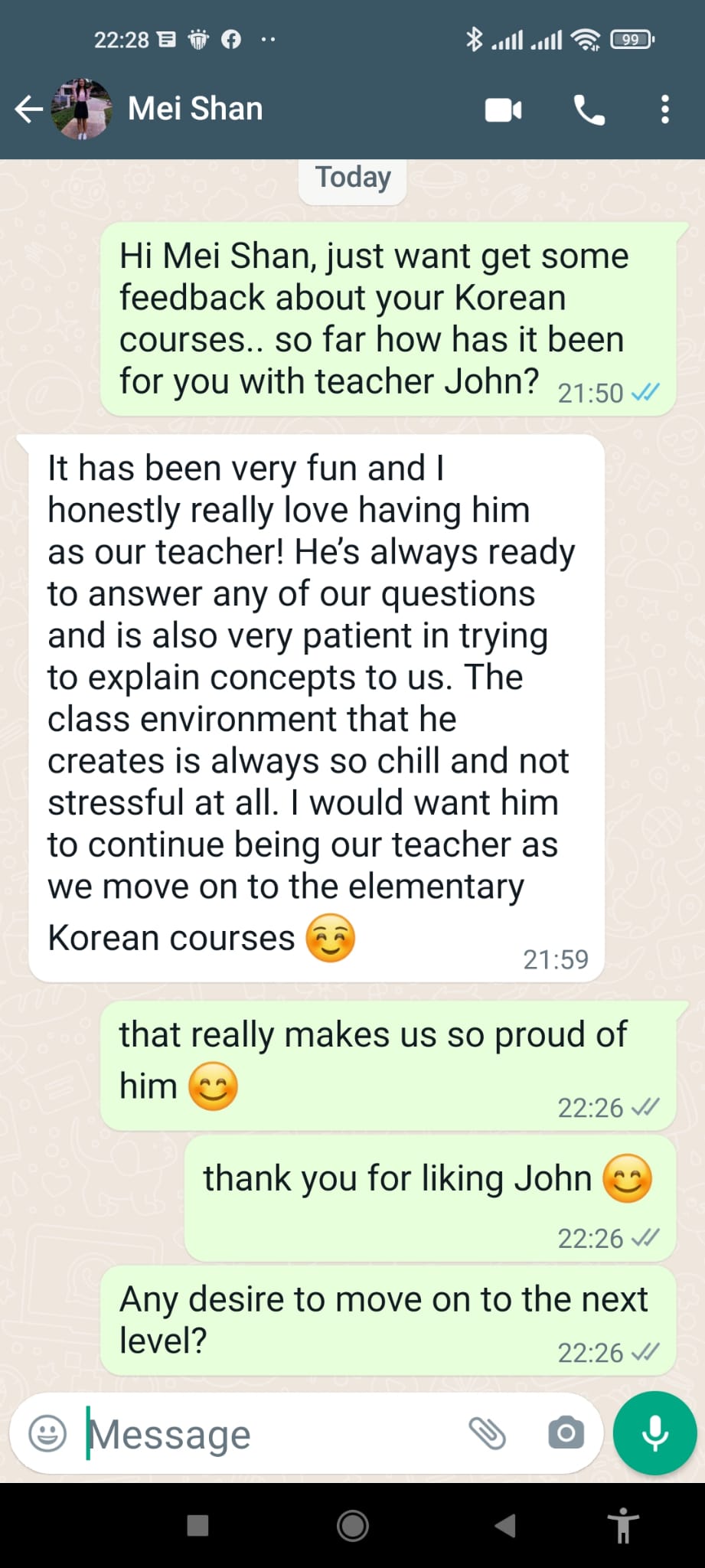 Yura Sonsaengnim is really nice and friendly. She really try her best to make us understand the lesson. 🙂
Teacher Yura is a good Korean teacher. She makes me feel comfortable during her lessons. She engages all her students in participating in her lessons and is patient with us. I would love to continue with her for my Term 2 lessons.
Teacher Yura is friendly and make it comfortable for us to engage with one another in the Korean class. She also provide additional examples to explain her lessons to increase our understanding. After completion of Term 1, I plan to continue learning from her in Term 2
doyoung's sugar baeby
2021-12-13
classes are v interactive and ms jeeun lee is really patient w the class ensuring that we learn well :DD
I enjoyed my korean class with teacher Jeeeun. Very soft spoken and cheerful teacher and also she very patient with us! She do help us alot.
This course is great for people who are just beginning in learning Korean (Hangeul). Our trainer Ms Jeeeun Lee explains the concepts very well and the examples are of things that you would actually use in your life. She is very patience in explaining to ensure everyone understand it. I am extremely satisfied with this course and its content. Ms Jeeeun did an exceptional job of presenting the material in a comprehensive and progressive that was both helpful and enjoyable. I have seen other courses before that did not have such detail in grammar, vocabulary, and practical usage of the weeks subject. The material provided in textbook and workbook were relevant and downloadable for future reference. Ms Jeeeun was clear and communicated well. I trully recommend this course for anyone who wants to learn Korean and doesn't know anything about it. Would like to take this opportunity to thank Ms Jeeeun for her time, expertise and patience! We definitely enjoyed being taught by her!!
Online class are fun and interactive, an enriching experience for anyone looking forward to it
N.Rahidah Othman
2021-12-13
Virtual beginner Class with teacher Jeeeun. She is a very good Korean teacher. She is very patient and helpful to assist if we have problem with our pronunciation. Alway looking forward to attend the class every week.
Ready to learn with us?
We offer competitive rates in Singapore without compromising on quality.
Our lessons are fully SkillsFuture claimable.